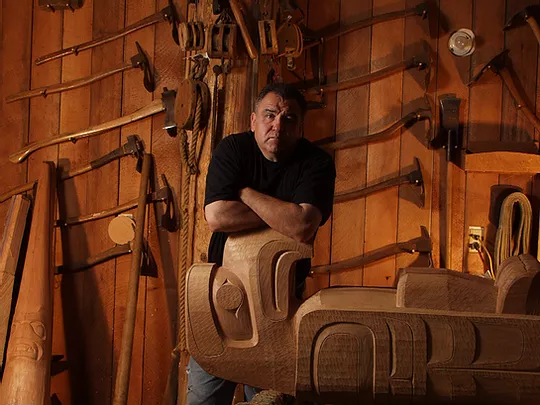 Calvin Allan Hunt, (1956) is the youngest son of Kwagu'l Hereditary Chief Thomas Hunt, and Emma, the daughter of a great Mowachaht Chief and Shaman, Dr. Billy, from Yuquot (Friendly Cove). He is also the grandson of renowned carver Mungo Martin and grandmother, Abayah. In 2004 Calvin was inducted into the prestigious Royal Canadian Academy of Arts, and honoured with the BC Creative Achievement Award for Aboriginal Art in 2009.
Born into a wealth of traditional values, from 1972 to 1981, Calvin carved full time as an apprentice with Tony Hunt, Sr. (Arts of the Raven Gallery, Victoria, BC.). Moving to his ancestral home of Fort Rupert in 1981, Calvin and his wife, Marie, opened their carving workshop "The Copper Maker" and in 1989 opened the retail art gallery. The gallery's prophecy has come true, as the gallery and workshop is steeped in a wealth of traditional and contemporary fine art.
Calvin continues working in wood, including canoe building; silk-screened prints, gold and silver jewelry, bronze and stone carving.
---
Live virtual presentation for IAIS Artist Series: Monday, November 23 at 1:00pm
Calvin Hunt is a Kwagu'l (Kwakwaka'wakw) artist living and working in his traditional homelands of Tsakis (Fort Rupert, British Columbia). His reputation for authenticity and artistic excellence spans the globe. Working mainly in totem poles, he also has a wide range of works of art that reflect the power of contemporary Kwakwaka'wakw art, ceremony and spiritually. Teachings from Chiefs, Elders and other artists have contributed to Calvin's vast knowledge and inspiration. His work includes a recently acquired totem pole in our exhibit We Are Still Here. In addition to creating his own art, he also restores totem poles and shares his culture throughout the world with his dance group, the Copper Maker Dancers. As one of the featured artists in our Virtual Holiday Market, join Calvin, along with IAIS staff, for a Zoom-based presentation on his traditional carving style and its significance to his culture.