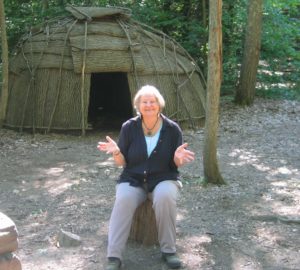 *PLEASE NOTE: Due to COVID-19, all in person presentations are suspended for the time being. For more information, please contact our research dept [email protected]
Explore a wide range of topics presented by noted archaeologist and IAIS' Director of Research and Collections, Dr. Lucianne Lavin. Whatever your group's needs, these programs can be adapted to be presented at the museum or in the facility of your choosing. Please note the program descriptions and take into consideration the electronic equipment required for a Powerpoint presentation.
Lucianne Lavin, Ph.D. is an anthropologist & archaeologist who has over 40 years of research and field experience in Northeastern archaeology and anthropology, including teaching, museum exhibits and curatorial work, cultural resource management, editorial work and public relations. Dr. Lavin is a founding member of the state's Native American Heritage Advisory Council and Editor of the journal of the Archaeological Society of Connecticut.
She received her M.A. and Ph.D. in anthropology from New York University and her B.A. from Indiana University. Dr. Lavin has written over 150 professional publications and technical reports on the archaeology and ethnohistory of the Northeast. Her award-winning book, Connecticut's Indigenous Peoples: What Archaeology, History and Oral Traditions Teach Us about their Communities and Cultures, was recently published by Yale University Press (spring 2013). The book won an Award of Merit from the Connecticut League of History Organizations (Award of Merit Connecticut League of History Organizations 2014-02-25), won  Second Place in the books category in the 2014 New England Museum Association Publication Award Competition (Publication Award New England Museum Association 2014-07-15), and  was selected as a Choice Magazine (American Library Association) "Outstanding Academic Title for 2013 in the North America Category" (Outstanding Academic Title Choice 2014-01-21). Her book is available for purchase in the museum gift shop.
Connecticut's Indigenous Communities and their Natural World
CT's indigenous communities have long, rich histories that extend back to when they shared Mother Earth with mastodons and other extinct animals.  Through those thousands of years, Native Americans became experts in their natural environments, a necessity for their physical survival. New England was not a "wilderness", as described by the early English settlers, but a built landscape. Our first environmental stewards, Native American communities had long been managing their physical environments to enhance plant and animal populations. Indigenous folklore and sacred stories promoted this stewardship. Birds were an important part of the environmental planning, not just as a food source but also for their spiritual significance.
An Evening with the Author
Dr. Lucianne Lavin will discuss her background in anthropology, archaeology and indigenous studies and her reasons for writing the book, Connecticut's Indigenous Peoples: What Archaeology, History and Oral Traditions Tell Us About Their Communities and Cultures. During this PowerPoint presentation, she will also introduce the audience to the book's major tenets, which will be followed by a general question and answer period and book signing.
Traditional Roles of Women in Southern New England Tribal Societies
This Powerpoint Presentation will provide a short introduction to indigenous societies in the region, and then focus on the traditional roles of women in those Native American societies. Their status will be compared to that of indigenous men and contemporary European women. Great talk for Women's History Month!
Mohican Memorabilia and Manuscripts from the Stockbridge Mission House "Indian Museum": The Persistence of Mohican Culture and Community
This presentation is a result of Dr. Lucianne Lavin's research in 2010 as the Scholar in Residence at the Stockbridge Mission House in Stockbridge, Massachusetts. The program was funded by Mass Humanities, a state-based affiliate of the National Endowment for the Humanities. The goal of this particular project was to broaden our understanding of the history of the Stockbridge Mohican community through a study of the Mohican artifacts and documents housed at the historic Mission House museum, which was originally built in 1737 for the Mohican's first minister, John Sergeant.
Native American History IS American History
This is a PowerPoint presentation on the significance of Native Americans to our American history and culture in general. It discusses the contributions of Native American peoples and their traditional cultures to clearly demonstrate that their history must be considered a part of American history.
Our Hidden Landscapes: Stone Cultural Features and Ceremonial Landscapes
A hike in the woods often reveals a variety of stone cultural features to the experienced archaeologist. This PowerPoint presentation is an overview of the various kinds of European-American and indigenous stone structures found on our Connecticut landscapes. State regulations support preservation of sacred Native American sites, and it is important for members of land trusts and conservation organizations to be able to recognize these sites within their properties, and inform the CT State Historic Preservation Office and Office of State Archaeology of their presence.
A Native American Winter
This PowerPoint presentation describes the traditional winter activities of Native Americans before the coming of European settlers to Connecticut. Connecticut's indigenous communities fortify their image as outdoor peoples in their ability to not only survive, but thrive, under adverse conditions.
Native American Pottery: The Sacred & the Mundane
One of the most negative stereotypes of American Indians is that their cultures were simple and primitive. Nothing could be farther from the truth. Having migrated into North America by at least 20-30,000 years ago, Native American peoples have had thousands of years to develop their tribal traditions and belief systems into the complex, sophisticated entities encountered by their first European visitors. This PowerPoint presentation uses one aspect of their material culture to illustrate this fact. Examples of Native American ceramics from several tribal cultures will be discussed in terms of their technologies, designs, functions and symbolisms.
Education for Indigenous Extinction: The View from Connecticut
Native American communities have endured over 400 years of racism, discrimination, poverty and injustice caused by factors of European invasion. A major tool for detribalizing was Indian boarding schools. This PowerPoint presentation will discuss the effects of Indian boarding schools on indigenous identity and culture in the United States in general, and Connecticut in particular.
Contemporary Native American Communities: An Introduction
This PowerPoint presentation introduces the audience to several contemporary Native American communities. Specifically, it will compare and contrast those in the West with those in southern New England, stressing their diversity in physical environment, culture and history. One result is the major differences in their historic reservation cultures.
A Native American Walk through your Land Preserve
Delve into the Native American history of your preserve. Join archaeologist Lucianne Lavin for a leisurely walk through the meadows and woodlands of your preserve, the homeland of Native American communities for thousands of years prior to European settlement. Dr. Lavin will point out the bountiful variety of natural resources that likely drew indigenous peoples to the region and discuss their importance to their Native American cultures. She also will describe the archaeological research adjacent to your land.
Digging for Venture
This presentation will explore the multi-year archaeological project that unearthed the home and farm of Broteer Furro, AKA Venture Smith, a 17th century African-American leader and former slave. This project uncovered thousands of objects and over a dozen structural remains that provided previously unknown information on Venture's daily life, economic status and moral standards. He was born the eldest son of a West African prince, into a life fraught with murder, abduction, enslavement and discrimination. He overcame these adversities through hard work, honesty and courage, eventually becoming a respected free black land owner and businessmen in Haddam, CT. Great talk for Black History Month!
More Presentations to choose from include:
They Are Still Here: The Native Americans of Western Connecticut
Native American History of the Farmington River Valley
Connecticut's American Indian Coastal Communities, Then and Now
Native American Communities in the Lower Housatonic River Valley: Then & Now
The Wangunks and Connecticut's Indigenous Communities
The Tunxis & Indigenous Communities of Connecticut: Community Survival after European Settlement
Native Americans: The First American Mineralogists
Jim Thorpe, The Sac & Fox Tribe, and CT's Native Americans: Then and Now
Sports & Recreation: An Integral Part of Native American Lifeways