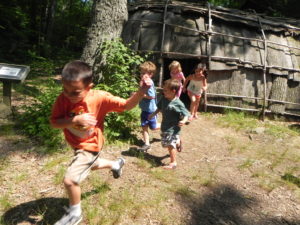 Our interdisciplinary school programs are designed with the CT State Standards in mind to encourage discussions and provide interactive learning through hands-on activities either at our facility or yours. With a variety of age appropriate exploration exercises, your students will learn while having fun!  A number of additions can be made to the core program, including Native American games, stories and crafts.
See individual program offerings for more curriculum details.
School Programs Brochure [PDF]
---
Elementary School Programs
Little Lessons in Indian Lifeways (Pre-K - 2nd)
Indians of the Woodlands (3rd - 5th)
Middle & High School Programs
Westward Expansion (6th - 8th)
Power of the 8th Generation (9th - 12th)
---
                Available Program Add-ons                                Shopping & Gift Bags
   Archaeological & Historical Presentations                                Outreach
---
Already scheduled your trip? How to prepare.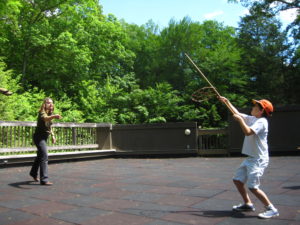 Ready for an adventure? Book Now!
---
Please note the following:
Program dates are assigned on a first come, first served basis with many peak-season programs scheduled months in advance.
All accompanying teachers, aides, paraprofessionals and nurses are admitted free of charge.*
One (1) chaperone for every ten (10) children is allowed free of charge.
Our programs include outdoor adventures, even on rainy days! Students should be encouraged to wear weather-appropriate clothing.
In the event of a cancellation, a full two weeks' notice is required or a $100 cancellation fee will be charged.
Cancellations due to school closings, delayed openings or early dismissals will not be charged and we will do everything possible to reschedule the trip for a convenient date.
A deposit for large groups may be required.
---