Looking for a unique camp experience for your children this summer that's both exciting and educational?
The Institute for American Indian Studies will be offering six weeks of camp focused on the lifeways and lessons of Native Peoples! Join experienced educators and camp staff on a journey through one, or several, of the themes listed below.
Each week, while hiking in the woods, playing games, doing crafts, and making friends, campers will work together to complete a group project. By doing so, campers will not only learn valuable life skills, but will also have a positive impact on future visitors, students, and campers.
Summer Camp Mission:
Encourage children to practice team building skills,
 increase their appreciation for nature, and connect with
 a culture that has more than 10,000 years of history.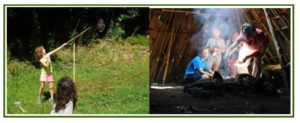 Camp Sessions and Dates:
Digging Detectives: Archaeology Week (July 8 -12)
How do people today figure out what life was like a long time ago? Until someone invents a time machine, we have to carefully look for clues that people in the past left behind. These clues are all around us, if you know where to look. Children who attend this week's session will dig into the science behind excavations, learn about the tools and techniques archaeologists use to understand cultures of the past, and will even get the chance to visit an active archaeological site!
Eating with the Seasons: Foraging in the Forest (July 15 – 19)
Today, when we are hungry, we often go to the supermarket to buy food. Thousands of years ago, this was not possible. Native Americans in the past were able to thrive by using their knowledge of the natural world. The forest and rivers of the Eastern Woodlands provided abundant natural resources, and clever gardening techniques cultivated more than just a hearty meal. Come forage with us, learn traditional techniques for cooking food, and harvest a healthy appetite for knowledge of the natural world.
Crafty Creations: Native American Inspired Arts and Crafts (July 22 – July 26)
Are you a crafty critter? Let your creativity run wild as you learn about crafts, music, arts, and storytelling from a variety of Native American cultures, past and present. Work on individual and group art projects based on themes and materials with significance to these diverse cultures. Explore a variety of mediums and release your inner muse in both indoor and outdoor settings at our Native American museum.
Get Out! Woodland Survival (July 29 – August 2)
How long do you think you could survive outside without access to modern technology? Perhaps you want to be prepared for hiking, camping, and other outdoor adventures. If so, sign up for this week's camp session and practice basic outdoor living skills, such as knot tying, navigation, and safe use of fire in an outdoor setting. Explore different techniques from the past and present that people use when they need to survive in a woodland environment with changing weather.
Tech it Out! Not So Primitive Technology (August 5 – August 9)
How do you use technology in your daily life? In today's Digital Age, with access to computers, cell phones, electricity, it is pretty easy to think that technology of the past was simple. In fact, people of the past figured out creative ways to move around, construct shelter, find food, and make tools that allowed them to thrive in their surroundings. In this week's session, campers will practice survival methods and traditional skills that people in this area have been using for thousands of years.  
Nature Nuts: Forest and River Ecology (August 12 – August 16)
The forests and rivers of the Eastern Woodlands are teeming with life! The Native inhabitants recognized long ago that all living things are connected. In this week's session, children will play games, complete activities, and create crafts as they learn about our four-legged friends (animals), winged friends (birds), and the finned ones (fish), as well as our standing tall, one legged friends (trees).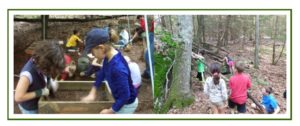 Have questions? Please contact us, or fill out the general information request form below.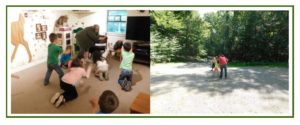 Details, Details!
Who: Children Ages 5 – 12; 13 – 16 year olds can apply to be CITs.
When: Monday – Friday; 9:00 am – 3:00 pm; Extended Camp Option Available with Pre-Registration.
Where: The Institute for American Indian Studies and Steep Rock Association; Washington, CT.
Please Contact us for pricing details. IAIS Members get a discount!
Pricing - $228 for IAIS Members; $285 for Non-members; Families with 2 or more children registered get a sibling discount!
Registration forms and Non-Refundable Deposit ($100.00) due by May 17 to secure your child's spot. Full payment due a week before the first day of your child's camp session.

Our Camp Director is Gabriel Benjamin. He can be reached at [email protected]