As They Speak: Native Voices in Today's Literature – Virtual Book Club
December 29, 2021 @ 7:00 pm

-

8:30 pm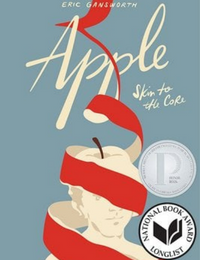 December Title:
Apple: Skin to the Core by Eric Gansworth 
Wednesday, December 29 at 7:00pm 
Looking to expand your reading list and discuss a variety of issues and topics important to Native people? Please join our digital book club, As They Speak: Native Voices in Today's Literature. Based on a variety of topics and featuring a range of genres, all of the books we will be reading have been written by contemporary Native authors. This month, we will be reading and discussing Apple: Skin to the Core by Eric Gansworth (Onondaga). The term "Apple" is a slur in Native communities across the country for someone who is supposedly "red on the outside, white on the inside." In this collection of stories, Gansworth shatters the slur and reclaims it in verse and prose. Join the virtual conversation hosted by IAIS Staff on Zoom.
In order to have a more intimate conversation, space is limited.
Please register below. This is a FREE event, but donations are appreciated.