At the Institute for American Indian Studies, we take great pride in our exhibits and continually strive to ensure that they are accurate, informative, and engaging. Our exhibits cover a broad range of topics, with both indoor display galleries, and outdoor experiences. Drawing upon the most current research available and the talents of experienced educators and designers, the exhibits at IAIS are simply unforgettable. IAIS houses the following permanent and semi-permanent exhibits, as well as temporary exhibits.
Flash Photography:
Due to the sensitive nature of many of the artifacts in our collection, flash photography is strictly prohibited within the museum building. Visitors are welcome to take photographs, but flash must be turned off while inside the museum building. Thank you for your cooperation!
---
Quinnetukut: Our Homeland, Our Story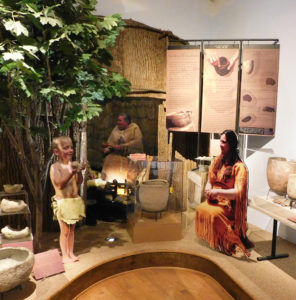 Our core exhibition follows the 10,000 year long story of Connecticut's Native American Peoples from the distant past to their lives and culture today. Presented in chronological order, Quinnetukut takes visitors from a time at the end of the Ice Age, when humans were first venturing into the area that we now call Connecticut all the way to today.
We Are Still Here: Communities, Social Change, and Cultural Endurance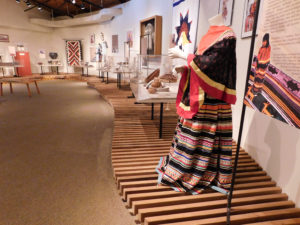 All Cultures are organic entities: change is a constant within them. Native American cultures have been part of North America for thousands of years; their Homelands stretch from the far North of Alaska to the South of Florida. Within these Homelands flourished sophisticated societies with complex technologies and belief systems. With the arrival of Europeans, different cultures introduced new items into North America, allowing tribal members to incorporate these items into their traditional economies. This exhibit bridges the past and present through presentation of artifacts and themes demonstrating the continuity and connections of post-colonial and modern tribal lifestyles across North America.  Learn the story behind the artifact and contemplate cultural examples of the distinctive and unique tribal communities from across the Homelands.
 

Adelphena Logan Education Room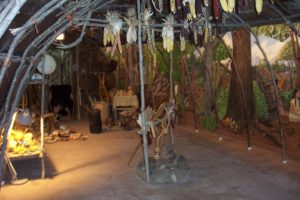 The Adelphena Logan Education Room is an indoor re-creation of an Algonkian Sachem's or Chief's house.  This "elongated wigwam," contains both original and replicated artifacts, as well as a detailed mural depicting everyday life in a Northeastern village before the arrival of Europeans. This exhibit allows visitors to experience the everyday challenges and joys of Native American life.
Adelphena "Del" Logan was a guiding light and spirit who nurtured IAIS from the beginning, through building construction and the early years of operation. Del often taught at IAIS and whenever IAIS needed her expert wisdom and support, she was always present both in person and in spirit. Del passed over on July 31, 1978 and the Sachem's house education room is dedicated in her memory. Inside are many of the precious objects which were her or her family's personal possessions she donated to IAIS as well as items she made specifically for IAIS, to be used in teaching visitors about Native American culture and ways of life, carrying on her legacy.
Alfred M. Darlow Exhibition Hall
The Alfred M. Darlow exhibition Hall houses ever-changing temporary exhibits.
There are no current exhibits in this space at the moment to make way for our Native American Arts & Crafts Holiday Market.
Recently on display:
A Native Traveling in the City - Contemporary art by Navajo (Dine) artist Antoinette Thompson (ATA)
Same Sad Sad Tale: Myth and Memory at Lovers Leap  - Research into the myth of Lovers Leap, and the archaeology associated with the local legend.
Children's Discovery Room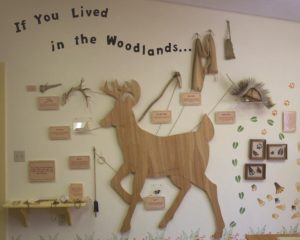 The Children's Discovery Room is an exhibit designed specifically for kids. An interactive space, the Discovery Room provides a fun and stimulating learning experience, showing visitors what life would have been like for them had they been a Native American living in the Woodlands 600 years ago.
Replicated Algonkian Village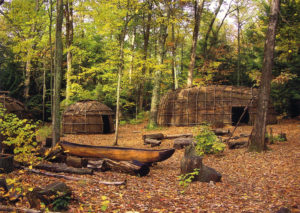 The Algonkian peoples—composed of over one hundred distinct groups and communities, sharing a common language family and similar lifeways—have traditionally inhabited much of the eastern United States and Canada. The replicated village at IAIS depicts the features common to an Algonkian village of 350 to 1000 years ago, including a Sachem's House, bark-covered wigwams, and a Three Sisters garden.
Nature Trails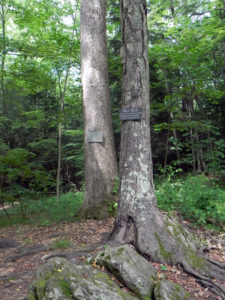 IAIS has several leisurely nature trails winding through our 15 acre property, all leading to the replicated Algonkian village. Each trail features plant and tree identification signs, revealing traditional Native American uses for their natural world.
 

Healing Plants Garden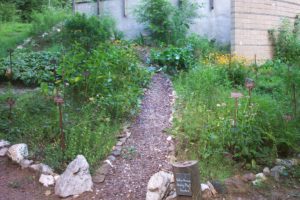 For generations, Native Americans of the Eastern Woodlands gathered wild plants; leaves; roots; flowers; and fruits, not only for food, but for medicine as well. Many modern pharmaceuticals are based upon the same ingredients found in herbs and plants that have been used by Native Americans for centuries. Our Healing Plants Garden contains many of the plants traditionally gathered in the wild by Native Northeastern peoples and features descriptions of the different uses thereof.