Summer Camp 2022 Registration Is Live!
The Institute for American Indian Studies is offering six weeks of summer camp focused on the lifeways and lessons of Native Peoples! Join experienced educators and camp staff on a journey through one, or several, of the themes listed below.
Each week, while hiking in the woods, playing games, doing crafts, and making friends, campers will work together to complete a group project. By doing so, campers will not only learn valuable life skills, but will also have a positive impact on future visitors, students, and campers.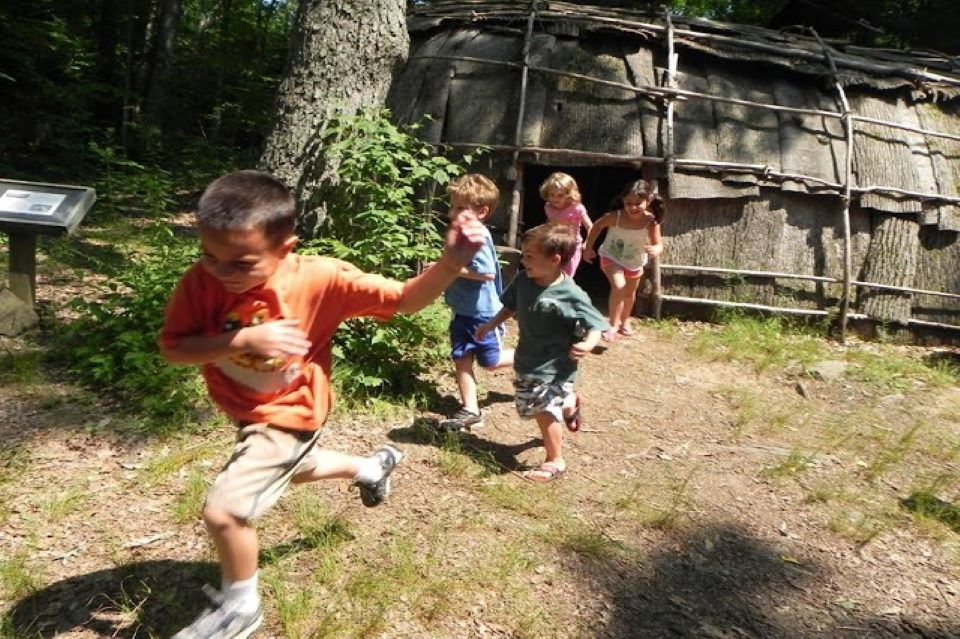 To encourage children to practice team building skills, increase their appreciation for nature, and connect with a culture that has more than 10,000 years of history.
Based on the latest recommendations from the Centers for Disease Control and Connecticut's Office of Early Childhood, as of June 2022, our summer camp will be mask optional for campers, counselors-in-training, and camp staff, regardless of vaccination status.
Please Note: IAIS reserves the right to require masks indoors should there be a surge in the local community, or if public health guidance changes per the Centers for Disease Control, Office of Early Childhood, or the local health department. Parents/guardians will be notified as soon as possible should this be the case.
Other COVID-19 Policies:
Camp registrations will be limited each week to ensure groups of 15 or less.
Most camp activities will be done outdoors, and campers will be kept separate from any other education programs, as well as general museum visitors.
No camper or camp staff will be allowed to participate for the day if they are exhibiting COVID-19 symptoms.
Please contact our Camp Director for additional details, or if you have any questions or concerns.
Email: [email protected]
Phone: (860) 868-0518, ext 103 (Education Department)
2022 Camp Sessions & Dates
Being Resourceful: Gifts of the Natural World
June 27 – July 1      9:00am – 3:00pm
The hunt is on for some resourceful campers! Long ago, before there were supermarkets, restaurants or online orders, cultures throughout the world developed different skills and technologies to help themselves find food and make tools using natural resources. Even today, plants and animals provide food and resources for making items that we need to survive. In this week's session, campers will practice animal tracking and plant identification, while making tools and learning skills that could be used for survival situations. Along the way, they will explore how Native cultures used their understanding of the natural world to thrive for thousands of years in the Woodland ecosystem.
Stories of Survival: Native Lifeways in the Eastern Woodlands
July 5 – July 8*      9:00am – 3:00pm
What lessons can we learn from Native cultures? By working together, developing new technologies, and passing down their traditions from one generation to the next, they have been able to survive through many changes and challenges over thousands of years. This week's camp session will feature activities that focus on the value of teamwork, adapting to change, and honoring our unique differences as campers learn about the diverse and dynamic cultures of Native Americans. Hear from Native voices in the present about the importance of caring for the land and its resources for future generations.
*Camp does not run July 4. Pricing this Week: $289 for IAIS Members; $320 for Non-Members
Outdoor Adventures: Survival Week
July 11 – July 15     9:00am – 3:00pm
How long do you think you could survive outside without access to modern technology? Perhaps you want to be prepared for hiking, camping, and other outdoor adventures. If so, sign up for this week's camp session and practice basic outdoor living skills, such as knot tying, navigation, and safe use of fire in an outdoor setting. Explore different techniques from the past and present that people use when they need to survive in a woodland environment with ever-changing weather.
Puzzles of the Past: Putting it All Together
July 25 – July 29     9:00am – 3:00pm
How do people today figure out what life was like a long time ago? Until someone invents a time machine, we have to carefully look for clues that people in the past left behind. Campers who attend this week will travel through thousands of years of history, from a time before the first people lived here until the present day. Learn about a variety of tools and techniques that scientists, historians, and cultures throughout the world use to make meaning of the past. Participate in mock archaeology digs, uncover hidden history, and piece together puzzles from the past!
Etuaptmumk: A Different Way of Thinking
August 1 -5     9:00am – 3:00pm
How do we know what we know about the natural world or people living in the past? Based on a Native American word Etuaptmumk, the name for this week's session refers to learning how to see the benefits of both traditional Indigenous knowledge and Western scientific thought. Through hikes, mock digs, and group projects, campers will be introduced to sciences such as archaeology, anthropology, geology and ecology. Through traditional Native American stories, campers will also learn about indigenous explanations of the world passed down through generations. All in all, this week's camp session will be a fascinating adventure for curious and creative minds.
Arrow Dynamics: Not So Primitive Technology
August 8 – 12     9:00am – 3:00pm
How do you use technology in your daily life? In today's Digital Age, with access to computers, cell phones, electricity, it is pretty easy to think that technology of the past was simple. In fact, people of the past figured out creative ways to move around, construct shelter, find food, and make tools that allowed them to thrive in their surroundings. In this week's session, campers will practice survival methods and traditional skills that people in this area have been using for thousands of years.