"Resilience: Honoring Those Lost, Those Murdered, and Those Who Still Search"

Poetry and Discussion with Osage Artist Dante Biss-Grayson
The installation explores the root causes of the MMIW epidemic. Through spreading awareness the artist promotes actionable change. According to the Urban Health Institute, 5,712 cases of MMIW were reported in 2016, of these, only 116 were logged into the Department of Justice Database. Dante Biss-Grayson, in this ongoing installation honors those lost, those missing, and those murdered. "The work is a live creation which will include; open discussions, poetry creation, art creation, new media, and virtual activism via social media platforms. The live creation will shout to the wind, a stone in the lake, a way to send a signal to the world that this issue is impacting us and that we must provide action." By creating art, and externalizing the emotions felt, the artist intends to bring greater awareness to this issue, and inspire action.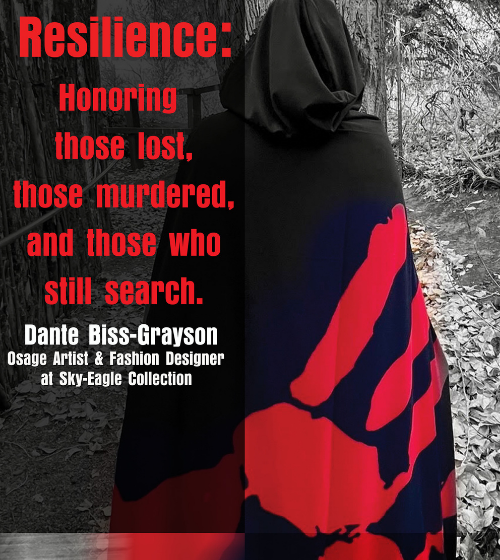 About Dante Biss-Grayson
 Artist, Designer, Poet, Writer, Activist
Being half Native American, of the Osage Nation, Dante uses the archetype as an image to guide his artistic process, 
getting into a trance like state and letting the work find itself. He adheres to the Zen tradition of simple strokes 
converging with one idea, leaving on the canvas one decisive expression.
 Dante Biss-Grayson's art is an expression of his experiences as a combat veteran combined with the PTSD those 
experiences begot him. Having studied art before enlisting, he became reacquainted with painting as a means of 
confronting and expressing the loss, the absurdity, and the beauty of war. He writes that he "grew up as the apprentice/protégé and 
son of [artists] Earl Biss and Gina Gray," surrounded by the radical art of 1960s/70s-era Institute of American Indian Arts.
November 12th 4:00pm EST
Location: 5 Points Art Center
855 University Dr, Torrington, CT 06790
November 13th 4:00pm EST
Location: IAIS Museum
38 Curtis Road, Washington, CT 06793
Learn More About Dante Biss-Grayson