Can't make it to the museum?                                                           We'll bring our programs to you!
Although nothing helps introduce Eastern Woodland Native American concepts quite like a visit to the Institute for American Indian Studies, if your institution is unable to make the trip, one of our Outreach Programs may be the next best thing! Our Educators bring the experience right to you with authentic and replicated artifacts, traditional clothing and furs and visual materials to help people imagine what it was like to be in the Eastern Woodlands.
Pre-K - 2nd Grade                                       Sixth - 8th Grade
  Third - 5th Grade                                      Ninth - 12th Grade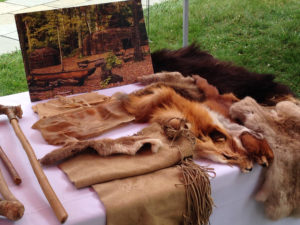 ---
If you would like a printout of our program listings, use these brochures:
School Programs Brochure [PDF]       Adult Program Brochure [PDF]
---
In the event of a cancellation, a full two weeks' notice is required or a $100 cancellation fee will be charged. Cancellations due to school closings, delayed openings or early dismissals will not be charged and we will do everything possible to reschedule the trip for a convenient date.
---