Are You Part of Nature or Apart from it? Lessons from Lake Waramaug Observed & Native American History
June 4, 2017 @ 10:00 am

-

12:00 pm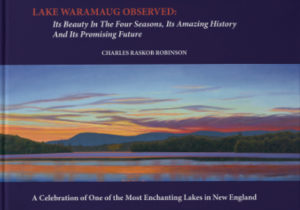 In this PowerPoint presentation, author/artist Charles Raskob Robinson and IAIS's Director of Research Lucianne Lavin, Ph.D. team up to discuss the history of Lake Waramaug and its denizens, and how it reflects the history of our world in general. Five Ice Ages, five Mass Extinctions, and our present immersion in the Sixth Mass Extinction caused by human activities are mirrored over all the Earth. According to research by the American Museum of Natural History, the Sixth Mass Extinction's rate of species extinction is greater than that of the previous five. Western thought often views humankind and civilization as separate from and adversaries of Nature.  In contrast, Native Americans traditionally see themselves as part of Nature. How we as a nation view our relationship to Nature could well determine our collective fate. What may we learn from Native American history, culture and thought that might undo or diminish the onslaught of the Sixth Mass Extinction and the degradation of our natural environments? Come join in the conversation and learn for yourself!
Mr. Robinson's beautifully illustrated book Lake Waramaug Observed is available in the museum's gift shop for the author's signing after the presentation.
Light refreshments will be served.
Included in the price of admission: $10 Adults; $8 Seniors; $6 Children; IAIS members free
Related Events