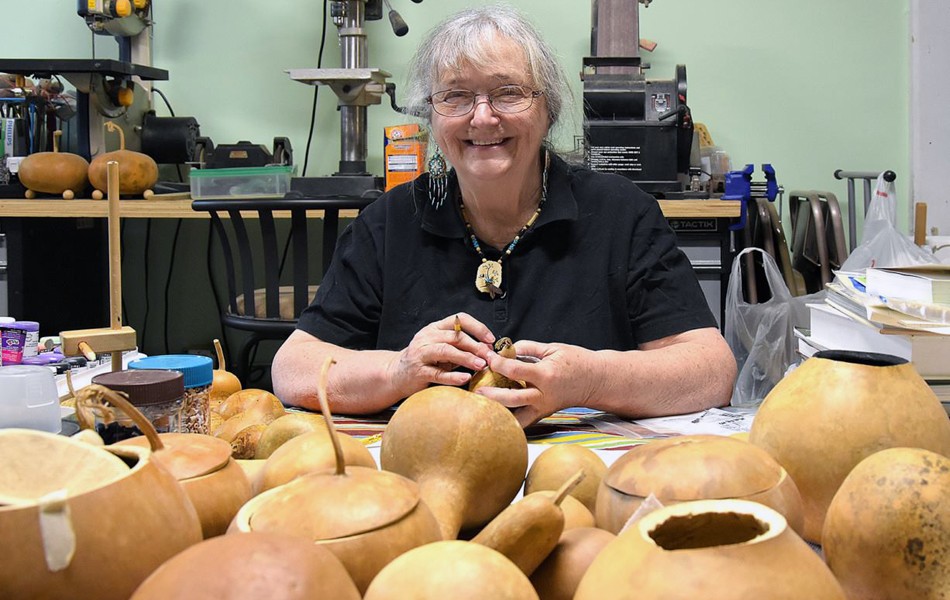 Jeanne Kent was named Spozowialakws (Morningstar) by an Abenaki Elder many years ago.  It means: "One who leads others out of the darkness into the light...a teacher."

She is an Enrolled Member of the  Nulhegan Band, Coosuk-Abenaki of Vermont.,and also descended from Nipissing, Montagnais, and Algonquin People from the Quebec area of Canada.  Her father was French and Indian, her mother was German.  Her art work contains Native American symbols and designs of the Northeast Woodland People with focus on the Wabanaki group.  Her medium is gourd art.  Currently, she is working on a series of gourd designs which she hopes will provide a visual language for the woodland People .

"There is something wonderful about putting one's hands into the soil to plant the seed, nurturing it until the blossoms form, then protecting them until they develop into natural canvases upon which to work my art, " she said.  "Working with gourds is a combination of my art and heritage bound together in a spiritual journey with Mother Earth."

She has received both state and national awards and participated in one man shows and group shows through out CT, NY, NH and MA. Her work has sold internationally via her website. She holds a Bachelor of Fine Arts Degree and a Master in Art Education from the University of Hartford.  Additional courses were taken at Johnson College, VT; Smith College, MA; Trinity College and Yale Campuses, CT, and the Woodstock School of  Art, NY.  She taught art in public schools for twenty years transversing levels from kindergarten to college.  As teacher and artist, she has given in-services on Native crafts and history, to educators, acted as a mentor for student teachers,  and offered courses at the University of Hartford Extension Service. Her most recent offering was presented to teachers as part of the H.O.T School (Higher Order Thinking Schools) Seminars at the Wesleyan College Campus.
---
Pre-recorded virtual presentation for IAIS Artist Series: December 12 at 1:00pm
Jeanne Morningstar Kent is an Enrolled Member of the Nulhegan Coosuk-Abenaki of Vermont, author of The Visual Language of Abenaki Art, and Native artist who specializes in gourd artwork. In her book, Jeanne discusses how, for centuries, the people of the Wabanaki Nations of the Northeastern United States and Eastern Canada have used signs, symbols, and designs to communicate with one another. Despite European expansion, war, intermarriage, and the hiding of their identities to avoid persecution, Wabanaki people used their visual language to keep their teachings and culture alive. As one of our featured artists in our Virtual Holiday Market, join Jeanne and IAIS staff for a viewing of her presentation on the visual language of the Abenaki and how she incorporates it into her artwork.