Dr. Lucianne Lavin Lecture "A Native American Winter"
December 7, 2021 @ 6:00 pm

-

7:00 pm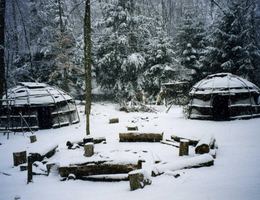 A Native American Winter
Tuesday, Dec. 7, 6:00p.m.
Virtual Lecture
If you were a Native American living 500 (or 1000 or 5000) years ago, likely you would look forward to the winter season. Connecticut's indigenous communities were outdoor peoples who not only survived but thrived under adverse weather conditions. They spent most of their lives in the open air. During warm weather people slept outdoors. Weetoos and wigwams (the Eastern Algonquian words for houses) were used for storage and as shelters in inclement weather. This PowerPoint presentation describes the traditional winter activities of Native American before the coming of European settlers to Connecticut.  Registration Requested!
Dr. Lucianne Lavin is Director of Research and Collections at the Institute for American Indian Studies. She is an Anthropologist & Archaeologist who has over 40 years of research and field experience in Northeastern Archaeology and Anthropology, including teaching, museum exhibits and curatorial work, cultural resource management, editorial work, and public relations. Dr. Lavin is a founding member of the state's Native American Heritage Advisory Council and retired editor of the journal of the Archaeological Society of Connecticut, a position she held for 30 years.
Related Events